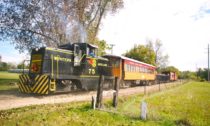 *** Please note we are located in the Village of Clinton in Lenawee County. We are NOT in Clinton Twp. near Mt Clemens That tourist railroad is the Michigan Transit Museum***
***Due to the historic nature of equipment our train is currently not handicap accessible. Our crews try hard to accommodate wheelchairs. We are more than willing to assist with boarding and disembarking of the train.***
PLEASE ARRIVE AT LEAST 30 MINUTES BEFORE DEPARTURE.
WE WILL NOT HOLD THE TRAIN FOR YOU IF YOU ARE RUNNING LATE.
TICKETS ARE ONLY REFUNDABLE UP TO 24 HOURS BEFORE THE TRIP, UNLESS THE TRIP IS CANCELLED BY THE SOUTHERN MICHIGAN RAILROAD.
EXCHANGES MAY BE ISSUED FOR A TRIP OF THE SAME PRICE, SAME CALENDAR YEAR IF AVAILABLE
THE SOUTHERN MICHIGAN RAILROAD RESERVES THE RIGHT TO CHANGE CAR ASSIGNMENTS AT ANYTIME IF NEEDED.

Ticket prices are for round trip fares between Clinton and Tecumseh during the summer.
Adult $25 Ages 16-61
Seniors $20 Ages 62 and up
Children $10 Ages 4-15
Babies FREE Ages 0-3
For car selection date's and time's please clink the link below.
Summer Tours
Our Summer trips run from our Clinton Station to Downtown Tecumseh. These trips are 3 hours. Along the way you will see the industry, wooded areas and wetlands before we arrive in Tecumseh. there you will have a 90-minute layover to enjoy the restaurant's and shops in town. before your return trip.
Special Fares Clinton Fall Festival Tickets are $10 for ages 13 years and up 12 years and under are Free! These are short trips to the millpond bridge and back. You can enjoy the festival and a train ride. Trips are around 45-minutes.
Rent the Train.
You can rent a car, or the whole train. Perfect for Birthday Parties, Family Reunions, Office Parties, School Outings. Email or call for availability and more information. Rental price includes tickets for all passengers in rented car. No need to buy additional tickets.
Rent the whole train. Rent the whole train for 3 hours for $1000.00 and $200 a hour after. limit 6 hours. Rentals can be rented on off run days please contact us at ridesmr@gmail.com or call us at 517-456-7677 for more information,
Rent a Caboose. This option allows you rent on of our two cabooses during a scheduled run day.
Our New York Central Bay Window Caboose The Ernie Jeschke. $300 rental per trip. Can accommodate up to 25, with 18 window seats.
Our Southern Michigan Cupola Caboose. $200 rental for a trip. Can accommodate up to 10. This caboose is set up as it was when working on the railroad, so this car's windows offer a limited view