Please scroll down to purchase your tickets. Click on the blue button or select from the calendar on the right.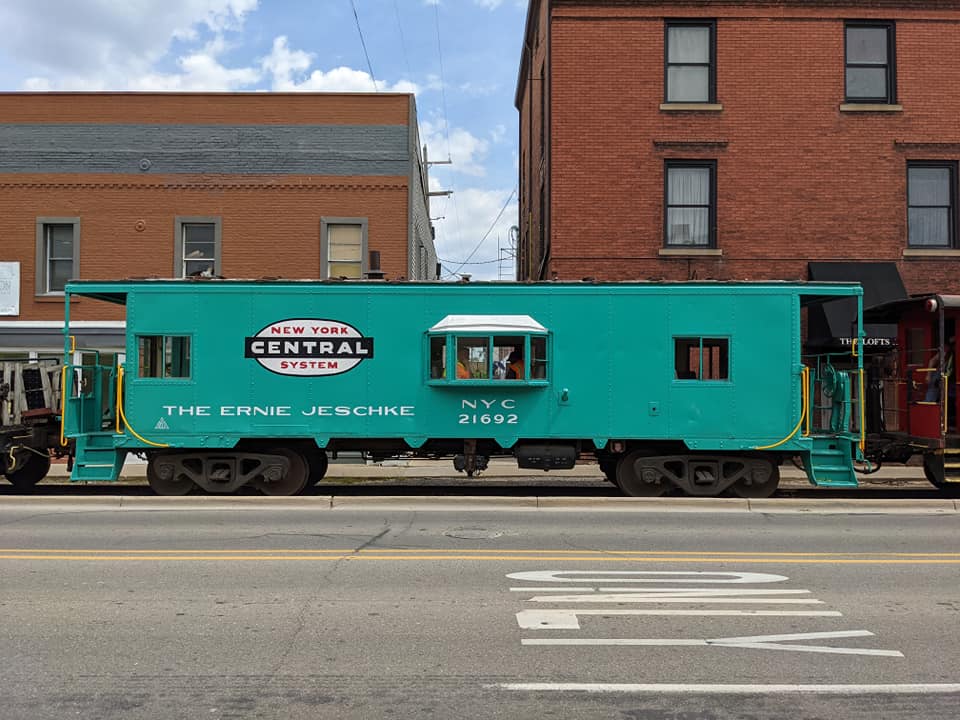 *** Please note we are located in the Village of Clinton in Lenawee County. We are NOT in Clinton Twp. near Mt Clemens That tourist railroad is the Michigan Transit Museum***
***Due to the historic nature of equipment our train is currently not handicap accessible. Our crews try hard to accommodate wheelchairs. We are more than willing to assist with boarding and disembarking of the train.***
PLEASE ARRIVE AT LEAST 30 MINUTES BEFORE DEPARTURE.
WE WILL NOT HOLD THE TRAIN FOR YOU IF YOU ARE RUNNING LATE.
TICKETS ARE ONLY REFUNDABLE UP TO 24 HOURS BEFORE THE TRIP, UNLESS THE TRIP IS CANCELLED BY THE SOUTHERN MICHIGAN RAILROAD.
EXCHANGES MAY BE ISSUED FOR A TRIP OF THE SAME PRICE, SAME CALENDAR YEAR IF AVAILABLE
THE SOUTHERN MICHIGAN RAILROAD RESERVES THE RIGHT TO CHANGE CAR ASSIGNMENTS AT ANYTIME IF NEEDED.
Ticket prices are for round trip fares between Clinton and Tecumseh during the summer.
Adult $25 Ages 16-61
Seniors $20 Ages 62 and up
Children $10 Ages 4-15
Babies FREE Ages 0-3
Summer Tours
Our Summer trips run from our Clinton Station to Downtown Tecumseh. These trips are 3 hours. Along the way you will see the industry, wooded areas and wetlands before we arrive in Tecumseh. there you will have a 90-minute layover to enjoy the restaurant's and shops in town. before your return trip.
Fall Festivals
Join us for our festival trips. We are offering trips for both the Clinton Fall Festival and Tecumseh Appleumpkin Festival. We are offering short trips to our Red Mill Pond bridge and back. This way you can enjoy a train ride and the festivals. Trips are around 45-minutes. Tickets are $10 for ages 13 years and up 12 years and under are Free!
Fall Color Tours
Take a leisurely trip through northern Lenawee County. We will depart the City of Tecumseh heading north to the Village of Clinton. You will be riding on the oldest branch line in the state. As the colors change imagine the countless passengers that once rode this line to points beyond. This railroad once played an important role in the local economy. Once we are north of the city, we will enter the Red Mill Pond. Our train slows down to give you a chance to see the many different animals that call this area home.
During your trip, our volunteer crew members can point out different places and Industries that our railroad served. Once we arrive at our Clinton Station, help yourself to some delicious, locally made Apple Cider. Be sure to check out our giftshop. After our short layover, we will head back to Tecumseh. There you can check out the other side of the train. And catch anything you may have missed before. Each trip is expected to take around 2 hours.
Tickets:
Adult $25 Ages 16-61
Seniors $20 Ages 62 and up
Children $10 Ages 4-15
Babies FREE Ages 0-3
Santa Express
Step aboard the train for a 45-minute ride up to Santa's workshop. The kids will have a chance to tell Santa just how good they've been this year and what they have on their holiday list! Book your spot on the 'Presents and Toys' coach filled up with holiday lights and wrapped presents or enjoy the trip in the 'Candy Cane Caboose' stuffed with candy canes and a Christmas tree! Our ride is sure to warm even the Grinch's heart! Santa's workshop will be full of lights and you'll be able to enjoy a fresh cup of hot chocolate!
Make sure you dress for the weather, there is a short walk between the train and the workshop.
Tickets:
Adult $25 Ages 16-61
Seniors $20 Ages 62 and up
Children $10 Ages 4-15
Babies FREE Ages 0-3
Rent the Train.
*****TRAIN & CAR RENTALS SUMMER TRIPS ONLY****
You can rent a car, or the whole train. Perfect for Birthday Parties, Family Reunions, Office Parties, School Outings. Email or call for availability and more information. Rental price includes tickets for all passengers in rented car. No need to buy additional tickets.
Rent the whole train. Rent the whole train for 3 hours for $1000.00 and $200 a hour after. limit 6 hours. Rentals can be rented on off run days please contact us at ridesmr@gmail.com or call us at 517-456-7677 for more information,
Rent a Caboose. This option allows you rent on of our two cabooses during a scheduled run day.
Our New York Central Bay Window Caboose The Ernie Jeschke. $300 rental per trip. Can accommodate up to 25, with 18 window seats.
Our Southern Michigan Cupola Caboose. $200 rental for a trip. Can accommodate up to 8. This caboose is set up as it was when working on the railroad, so this car's windows offer a limited view